We are Houston Limos TX. We have been serving the Houston area for over 25 years with affordable limousines and buses. We are a family owned business, and we pride ourselves in our customer service. Our goal is to make sure that you have a great time on your trip with us, whether it be a night out at the club or an afternoon at the park with your kids. Let us help you plan your trip! Party Bus Houston TX is the best choice of transportation for visiting places for the best night entertainments with your guests. When you've got some great ideas for things to do in Houston during day, it is a good idea to plan well for your nightlife to make it memorable. What does Houston have to offer for nightlife? Board a Houston Party Bus and go exploring. We want to make your special occasion one to remember!

Things to See With Party Bus Houston
Houston's nightlife is never dull and you have everything from high energy dance clubs to low-key wine bars that offer exciting night entertainments which you can visit with guests by Houston Party Bus. Start your night at the Sambuca and enjoy best dining, dancing and live music.

The Houston Texas Party Bus Rental can arrange the best transportation for your guests for late night bites. Try Flying Saucer for the best grub which keeps guests until wee hours. Frank's Pizza located in downtown is within walking distance from many renowned hotels. After dinner, catch a show at the famous Anderson Fair. This folk and acoustic club is a survival from the sixties, and looks every bit the product of its age. The TX are versatile for luxury transportation of your guests to these exciting locations.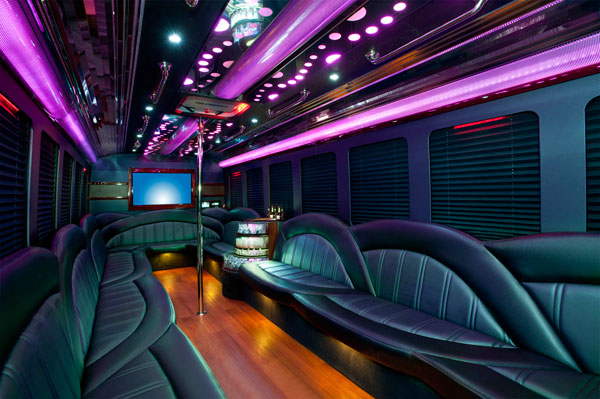 Houston TX is the fourth-largest city in the USA, and the largest city in the state of Texas. It is the seat of Harris County and the economic center of Houston Sugar Land Baytown. Just five miles away from downtown Houston lies a sprawling paradise the Houston Arboretum and Nature Center 77024 which has five miles of nature trails, forest, pond, wetland, and meadow habitats. A variety of science, art and yoga classes are offered for children and adults. This is a great place to visit for a date or a family outing.
The Downtown Aquarium is considered as one of the hottest Houston attractions featuring exhibits, games, rides and even dining. You will be able to spend a whole day here watching nursing sharks at the "Gulf of Mexico" exhibit and white tigers at the "Maharaja's Temple" exhibit. Another great place to visit is the Houston museum of Natural Science 77030 which receives thousands of visitors a year. Be sure to arrive early to avoid long lines and crowd. The Leon's Lounge 77002 is the most matured bar in Midtown and high in the running for the citywide title of white-hot lounging, pure and simple. Book your party bus or limo today!
Party Bus Rentals Houston
The Party Bus Rental prices are quite affordable for your group to travel in style to the nightclubs. Richs Houston is a mega nightclub in Houston TX with finest sound and lighting systems to ensure that every aspect of your sensory experience taken care of. Our transportation service offers Limo Buses in Houston for your comfortable trip to the favorite night spot.

The South Beach is an after-hours nightclub with hi-tech features such as full-color water-cooled matrix laser light show utilizing liquid ice jets that spray out a cloud of Ice. Our party bus company offers professional chauffeurs who enable carefree trip for your night entertainment with guests.
We are Houston Limos TX
Houston Limos TX is a local limo company that has been in business for many years. We have a reputation for being very professional and our fleet of cars and buses can take you anywhere in Texas. We have drivers that speak many languages, so they can communicate with you in your native language.
Serving clients from all over the U.S.
We are proud to say that our clients represent all different walks of life, and come from all over the United States. We also have clients from around the world, who rely on us for their transportation needs when they travel to Houston. We have serviced clients in major cities and small towns across Texas. Our service area includes Houston itself as well as its surrounding suburbs. Our limousines and buses often carry clients throughout this entire region.
We have cars and buses of all sizes
Everyone is different, and that means that everyone has different needs when it comes to transportation. There is no one size fits all solution when it comes to taxis, limos or buses. That's why our company offers a variety of vehicles for rent; we have cars and vans available for hourly rentals, as well as buses and limousines available for day-long trips. We're also happy to help you plan your next event with our stretch limo rentals. A few more things about us: We are able to provide service 24 hours a day, 7 days a week (including holidays). If you need transportation at 3am on New Year's Eve – we're here! You can rent from us by the hour or by the day depending on what kind of trip you're planning. If you want someone else's company for just an evening out, then we recommend renting hourly instead of reserving a fleet vehicle for an entire night so that other passengers don't get bored waiting around while their friends catch up over dinner or drinks!
Let us help you plan your trip
When planning a trip, you can count on us to help you plan the itinerary. We can also provide transportation and accommodations for your trip. You will have the opportunity to choose from our wide selection of activities and entertainment options. We'll ensure that your trip is stress-free by providing an itinerary that matches your interests and preferences. Let us help you plan your next business trip or vacation!
We'll be there when you need us
Houston Limo Service is a 24-hour service. We have drivers available whenever you need us, whether it's in the middle of the night or early morning. If you find yourself in need of transportation at any time, we can help out! We'll pick up anyone and take them anywhere within Texas and beyond.
Hours are flexible, 24-hours a day, 7 days a week
If you're in need of a limo or bus in Houston, TX, look no further than Houston Limo Service. We offer a wide range of transportation services and can accommodate any event. No matter what type of party you are planning, our drivers are trained to be professional and courteous. Our fleet consists of luxury vehicles that include limousines and shuttles, but if you need something bigger or smaller we will do our best to accommodate your needs! Many people think that the only time we are available is during the day hours on weekdays. However, we have made it a priority to be available 24-hours a day 7 days a week so that no matter when you need transportation you will receive exceptional service from an experienced driver who knows all the routes around town!