Limo and bus rentals are serious business in Texas. They're also quite popular, especially in Houston, which has some of the nation's best limos and luxury buses. The questions we get asked most often are: what are the rates for these vehicles? What vehicles do you have available for hire? How far in advance should I book my rental? What happens if we want to go somewhere else during our trip? We hope to answer all your questions about renting a limo or party bus in Houston.
How Much Does It Cost For A Party Bus?
A Party Bus can range in price based on your needs. Sometimes it's even more effective to get a party bus than a limo, as it seats more passengers. A common rate for party bus is $90 to $250 an hour depending on how many people you plan to bring, pick up and drop off location.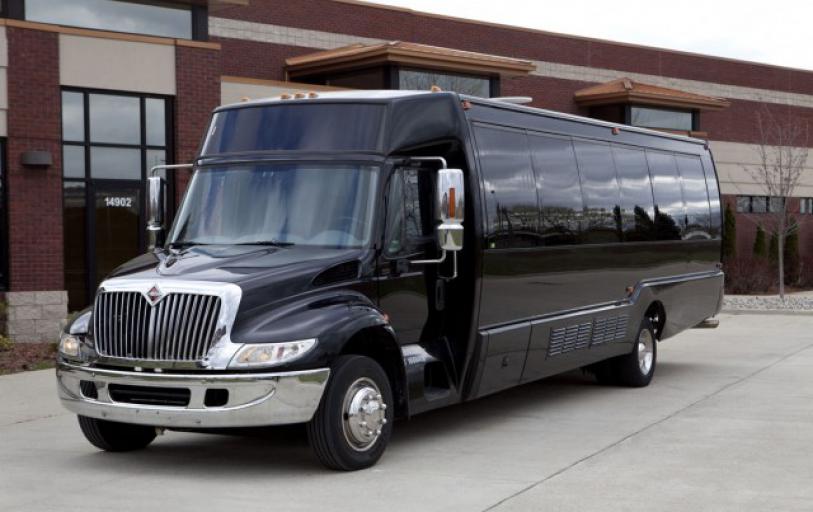 | Vehicle Type | Vehicle Passengers | Hourly Rates* |
| --- | --- | --- |
| 8 Passenger Limo | Up To 8 | $120-$235 |
| 10 Passenger Limo | Up To 10 | $130-$245 |
| 15 Passenger Limo | Up To 15 | $145-$255 |
| 20 Passenger Limo | Up To 20 | $165-$285 |
| 18 Passenger Party Bus | Up To 18 | $185-$200 |
| 20 Passenger Party Bus | Up To 20 | $180-$220 |
| 22 Passenger Party Bus | Up To 22 | $180-$240 |
| 25 Passenger Party Bus | Up To 25 | $108-$220 |
| 50 Passenger Charter Bus | Up To 50 | $260-$200 |
| 56 Passenger Charter Bus | Up To 56 | $200-$400 |
| 36 Passenger Shuttle Bus | Up To 36 | $150-$300 |
| 40 Person Shuttle Bus | Up To 40 | $150-$300 |
What is a Party Bus?
You have a couple options when thinking about a party bus, you can get a Party Bus or a Limo. Both types of vehicles are great options as they can seat from (10 people) to large groups (40-50 people). The party bus is very much like a limo, the driver becomes your own personal chauffeur. There is an array of different types of cars to suit your different taste and the mood for your overall event. Pick and choose whatever style, color and feel you want for your car and have a fun time with your friends and loved ones.
How many people fit in a party bus?
When planning to book a party bus, there are many options to seeing what best fits your needs. There is different kinds and different sizes of vehicles such as a Party Bus, Charter Bus, or a Limousine to safely and comfortably transport your group to your event. A normal sized Party Bus can seat anywhere from 12 to 28 passengers. However, a Limousine or SUV is ideal for 6-12 passengers
Where to go on a party bus?
School Events
Weddings
Birthday Parties
Prom
Night Out With the girls.
Bachelor/Bachelorette Party
Corporate Events
Sporting Events
How much do you tip a limo driver?
When thinking about what to tip your limo driver, there are few things you should keep in mind. To start, think about how was the overall service, timeliness, or the condition of the vehicle you received. A good rule of thumb is to tip about 20% of the price, if the service was overall a great experience.
What size and what type of Party Bus should I get?
When planning to book a party bus, there are many options to seeing what best fits your needs. There is different kinds and different sizes of vehicles such as a Party Bus, Charter Bus, or a Limousine to safely and comfortably transport your group to your event. A normal sized Party Bus can seat anywhere from 12 to 28 passengers. However, a Limousine or SUV is ideal for 6-12 passengers
How old do you have to be to be in a party bus?
If the trip is a nighttime bar event, everyone on the bus must be 21 years of age. The only exceptions are when we are going somewhere that the people under the age of 21 can get into.
What Are Some Highly Rated Limos in Houston?
Houston is a great city for limo rentals, and there are plenty of highly rated companies to choose from. Whether you're looking to rent a limo for a special event like your birthday or anniversary, or simply want to experience the thrill of riding in style during your next trip to town, Houston has what you need. From luxury sedans and SUVs to eye-catching party buses complete with bars and lounges, these reputable companies have everything you could imagine and more!
How Much Is a Limo Rental?
Pricing can vary depending on a variety of factors, such as: Size of the vehicle. There is a wide range of sizes and styles available for limos, from traditional stretch models to the more modern SUV-style vehicles. The average price for a basic sedan limo rental is around $100 per hour; however, if you opt for one with extras like leather interiors and climate control systems (which are both fairly standard nowadays), you may end up paying over $200 per hour if it's a busy time for your town or city. Time of year. Most events happen during certain times of year—for example, graduation ceremonies take place in May/June while weddings tend to happen between June-September. You'll pay more money during these peak seasons because demand is higher than usual; drivers will be competing against each other so they can offer their services at lower prices in order to get customers within their budget ranges! If you're looking at booking transportation during one specific month instead then check out our page called "When Should I Rent My Bus?" where we list all major holidays so that people can plan accordingly.
What Are People Saying About Limos in Houston?
If you're looking for a limo or bus rental service in Houston, you aren't alone. Many people are turning to the flexibility and convenience of limos and buses for special occasions, corporate events and more. But what do people say about their experience with these services? We asked our customers to share their thoughts on limos in Houston: It was easy to book a limo through [company name]. They have an easy-to-follow website where I could request a quote, pick my date and time, choose from several vehicles available on that day and check out easily. The staff was helpful when I had questions before my event! When I rented our choice of vehicles (party bus), they arrived exactly on time and were very clean inside. The driver was friendly too! This company provides exceptional customer service at all times during each transaction which is why we continue using them over other companies offering similar services.
What Vehicles Do You Offer for Hire?
We offer a variety of vehicles for hire, including: Sedans and Town Cars: Our sedans and town cars are the most popular options for limo rental. They come in several different sizes to accommodate groups of all sizes, and they can be driven by licensed drivers or chauffeurs if you prefer not to drive yourself. We also offer stretch limos that have roomy interiors with comfortable seating arrangements, perfect for when you're traveling with guests who need extra legroom or want privacy from each other during the ride. SUVs & Minivans: For those who need more space than that offered by a standard sedan or town car, our SUV rentals are an excellent choice! These vehicles have roomy interiors that can accommodate up to eight passengers comfortably—the perfect solution for large parties on their way somewhere special together. And if your group has kids in tow but doesn't quite need something so big (or expensive), consider hiring one of our minivans instead! Buses & Coaches: If you really want to impress your friends with your sense of style—or show them what it feels like to be royalty—then we recommend renting one of our luxury buses instead! These enormous machines boast spacious passenger compartments designed with comfort in mind; think plush leather seats, spacious overhead storage areas filled with snacks and drinks…and even beds where everyone can sleep after they've had too much fun at whatever event they're headed toward next!
How Do I Set up a Custom Charter Bus Rental to Houston?
If you have a custom charter bus rental to Houston, but aren't sure how to set it up, don't worry. We can help! You can contact us and we will be happy to assist you in choosing the right bus for your event. We will help with all of your other needs as well: choosing the right location and time, and finding the best driver for your trip.
What Are Your Rates?
Your rates will depend on a few different factors. The first is the size of your vehicle and the number of passengers it can accommodate. The second factor is its length of rental. Smaller vehicles, such as sedans or towncars, are usually rented for shorter periods at lower rates than larger vehicles like SUVs and limousines. If you're renting with less than five people, expect to pay less than if you were renting with more people in tow. To determine what your total cost will be, simply multiply these three factors together: how big is the car? How many people are going? For how long?
How Much Is It to Rent a Party Bus in Texas?
If you're planning a big event in Texas, renting a party bus can be the perfect way to go. Party buses are excellent for things like bachelor/bachelorette parties, birthdays and other celebrations, corporate events and more. If you're considering renting a party bus in Texas, keep in mind that pricing varies greatly depending on several factors. The size of the bus, Number of passengers (usually based on how many people will fit comfortably on board), Location where it'll be used, Time of day when it'll be used. There are also different types of vehicles available for rent including: luxury limousines; stretch limos; motor coaches; mini buses; shuttle buses; trolley cars and even party barges!
What Are the Prices for Bus Rentals?
The price of a bus rental will depend on the size of your group and what amenities you need. If you have a larger group (more than 20 people), you generally pay more than if it were a smaller group (less than 20 people). Additionally, prices are often higher on weekends and holidays. Holidays such as Thanksgiving and Christmas tend to be high-demand times for limo buses due to their proximity to holiday parties and family gatherings that require transportation. However, this can also make budgeting difficult because demand is higher during these times so companies raise their rates accordingly in order to accommodate everyone who needs transportation services at once without having empty vehicles sitting around all day waiting for customers who may not show up until after midnight due to alcohol consumption! So keep this in mind when booking a charter bus or limousine service for your loved ones; plan ahead if possible!
How Much Is a Limo in Texas?
There are many factors that can affect the price of a limo in Texas. You should always know what you're paying for before you make any reservations. There are plenty of different vehicle types on our website, from classic Lincolns and Cadillacs to modern Escalades and Hummers. All these vehicles come with their own sets of pricing based on their size, quality and amenities. We also offer chauffeur service for those who want someone else to drive them around Dallas-Fort Worth or Houston. Obviously, this adds another level of service that comes at an additional cost as well. For larger groups such as bachelor parties or birthday parties, it may be more economical to rent out an entire charter bus rather than multiple smaller cars and SUVs (which will likely mean more drivers too). If your group is small enough—for example less than ten people—then hiring just one stretch limousine could work perfectly well without breaking your budget either!
How Far in Advance Do I Need to Make a Reservation?
Making a reservation for your charter bus or limo is not required, but it is highly recommended. Without a reservation, you may be forced to wait in line with other customers and could possibly miss your flight or appointment altogether. Reservations are subject to availability and are non-refundable. If you would like to cancel your reservation, please call us as soon as possible so that we can reserve the vehicle for someone else. Reservations must be made at least 24 hours in advance of travel time. Reservations made less than 24 hours prior to travel time will need special approval from our reservations team before they will be accepted and confirmed on the day of service.
What Is the Largest Size Party Bus?
Party buses are great because they can accommodate up to 60 passengers. That's a lot of people having fun! Party buses come with a variety of seating arrangements, depending on how long you need the ride to be and if your party is going to make any stops along the way. You can choose from single seats all the way up through luxury seating options like couches and loveseats. The kitchen might have a microwave, refrigerator, sink and more—depending on its size and style—and there will definitely be plenty of room for dancing thanks to the dance floor. There's also usually a bathroom onboard so everyone can freshen up before getting back out on the road again. The sound system will pump out whatever kind of music you want to hear while cruising around town in style!
What Is a Private Ride?
A private ride is a one-way trip that doesn't include other passengers sharing the vehicle with you. Some people prefer this option because it allows them to be more flexible with their schedule and travel plans. Private rides are also ideal if you're looking for a customized experience, such as VIP service or "black car" service. A limo rental is your best bet if you'd like to plan an event where all of your guests are picked up in luxury vehicles, such as a wedding or prom night out!
What Is Your Service Area?
We can drive anywhere inside the Houston area. We cannot drive outside of this area due to insurance restrictions, but we are happy to pick you up at the airport and drop you off wherever you'd like!We have a fleet of luxury vehicles from which to choose and would be glad to match your needs with the best options available. Our staff is standing by 24 hours a day, 7 days a week for your convenience.
Can You Just Drive Around in a Party Bus?
Yes, you can just drive around in a party bus. It's the most fun way to do it! You can take a party bus to a restaurant, or concert, or sporting event. Or if you're having a big party at home—or even an intimate one—you can rent a bus for the occasion. When you're looking for transportation for that special day/night of your life (wedding/party/bachelor party), then look no further than our limo & bus rentals directory! We'll help you find the right vehicle for whatever needs and wants are required by your group of friends and family members on this very special day/night!